Note: The promotion referenced in this post has ended.
We've had such a great response to the DisplayFusion promotion that we can barely keep up with all the images. We're processing them as fast as we can, but in order to make sure everyone has a fair chance to submit enough approved images, we're extending the end of the promotion until October 18th!
Thanks to all our submitters, we also reached a milestone this week. After less than two months we now have over 2000 images available on WallpaperFusion! We have even more images being submitted and approved daily, so keep checking in to see what's new. You can also keep tabs on new images by following us on Twitter or visiting our Facebook page to see a featured image every day.
We have also updated the image download interface! You can now see a thumbnail preview of how the image will look spanned or split across multiple monitors before you download it. After picking the image you want, just click the thumbnail to download the full size image - it doesn't get any easier than that!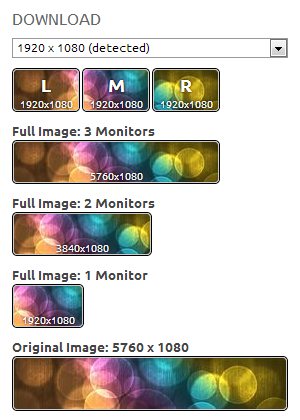 We hope that this update makes downloading the right image for your setup faster and easier! As always, we welcome any and all feedback through our contact page. Have an idea, suggestion or issue? Let us know!